Cojali's new diagnostic solutions shine at Agritechnica 2019
Cojali Group, the leading company in the development of diagnostic software and technological solutions for commercial vehicles and agricultural machinery has participated, for the third consecutive edition, in the Agritechnica 2019 trade fair, held in the German city of Hanover between 10 and 16 November, presenting a range of relevant innovations that prove the brand's effort in innovation and technological leadership in the field of diagnosis and aftermarket products for agricultural machinery.
Agritechnica 2019 was the place chosen for the presentation of the software version 19.3 of the Jaltest Diagnostic tool. This new version increases the number of models of vehicles, implements, and systems covered by the leading solution in multi-brand diagnostics, as well as new functionalities for the main brands. Agritechnica 2019 also allowed Cojali to anticipate to the visitors of the fair the developments included in version 20.1 which is planned for the first quarter of 2010.
Jaltest ISOBUS CONTROL was another of the main novelties of Cojali's presence in Hanover, a connectivity solution based on ISOBUS technology, which ensures a 100 % connection and full compatibility between tractors and implements. With this solution, Cojali introduces the digitization of agricultural production processes to achieve maximum yield of agricultural machinery, to manage successfully and comfortably a productive business and to adapt to new technologies increasingly present in agricultural activity.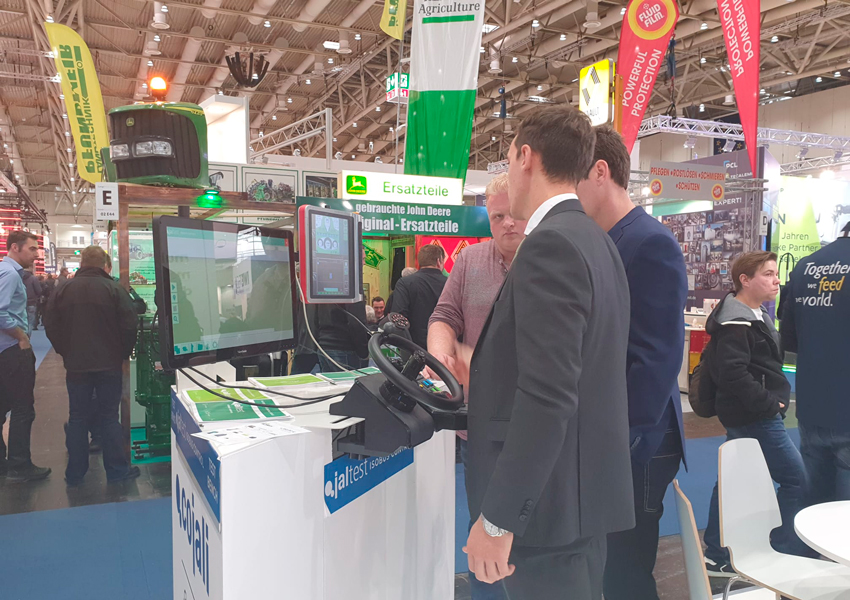 The innovative activity of the Jaltest Telematics team was also reflected at this fair in the Cloud Diagnostics solutions for agricultural machinery, as well as new precision telematics solutions, based on ad hoc projects for OEMs.
"The digitization of agricultural machinery is unstoppable and increasingly dominates the landscape of fieldwork," comments José Ramón Serrano, Global Sales Manager. "In this edition, we have been able to appreciate how innovation advances at speeds unthinkable until now, and we are very pleased to see that Cojali is at the forefront of research and development. Our diagnostic solutions help to ensure that the equipment offers the maximum reliability and durability needed to guarantee the usefulness and profitability of the increasingly important investments made in machinery..
The products and solutions presented at Agritechnica 2019 are now available and commercialized through Cojali's extensive network of distributors around the world.