XVII Conference on Discretionary Transport of Andalusia
Last week, Jaltest Telematics participated in the XVII Conference of Discretionary Transport of Andalusia that took place in the Fair and Congress Centre of Málaga, organized by APETAM and FEDINTRA.
During the conference, Pedro Velha, Regional Sales Manager of Jaltest Telematics, presented company's solutions for effective fleet management, focused on maximum safety for drivers, maximum efficiency in the resolution of possible failures and/or needs of fleet service from the diagnostics connected to the cloud, in order to avoid major failures in the path and, with maximum safety for passengers/clients of Discretionary companies. Everything is possible, thanks to the solutions we offer from Jaltest Telematics, installed and connected in vehicles: the solution Diagnostics connected, Tachograph download in cooperation with our partner OPENTACH, the use of mobile resources to optimize operations and services on the road, the improvement of traffic flow and the mobility of vehicles, minimizing incidents in the service and the costs associated.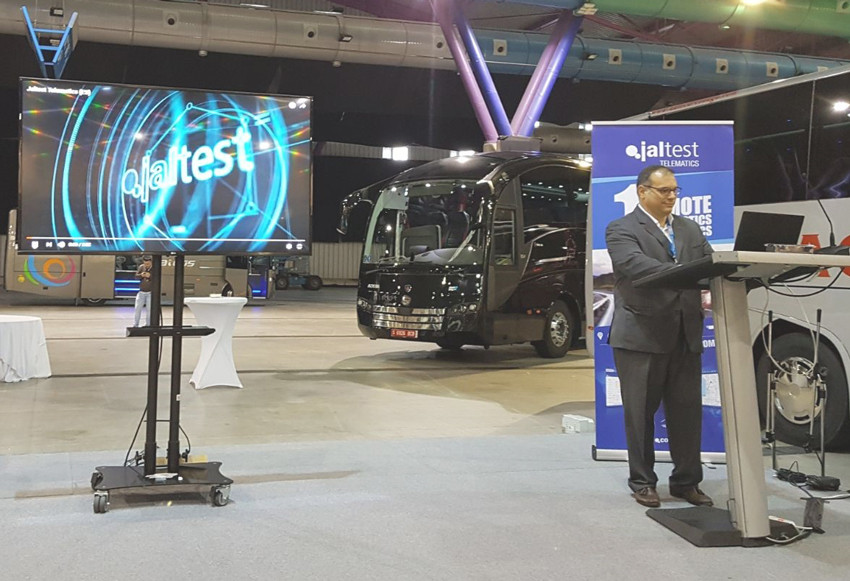 Juan Blach, Global Sales Director of Jaltest Telematics, also explained: "Jaltest Telematics is the COJALI GROUP business division that is currently leading the market as provider of cloud Diagnostics, vehicles management and tracking solutions, and industrial and agricultural machinery. The connectivity of vehicles in the global transport sector offers us diverse and great opportunities with manufacturers, bodywork builders, and small, medium-sized, and large companies. There is a wide range of fleets management software solutions on the market, but currently, the difference lies in the veracity of the information that these solutions offer on the data obtained from the vehicles and the ability to integrate the data with the different systems used by companies. At present, it is possible to provide effective and accurate information. In Jaltest Telematics, we connect with the Electronic Control Unit (ECU) of the vehicle and with our cloud Diagnostics solution, companies can take objective decisions and, among others, assess how employees drive and how the driver profile affects the costs, (for instance, the brake pads wearing and tyre pressure of their vehicles)."
For additional information on the First Remote Diagnostics and Telematics Solution, please, visit our website: Jaltest Telematics